We Provide The Quality Wallpaper Installation Seattle Residents Need
At our company, we are passionate about wallpaper installation. We believe that every room deserves beautiful wallpaper, which is why our designers create the most striking designs to make your home or office space stand out. When it comes to wallpaper installation Seattle residents love that our team of wallpaper installers is highly skilled in the art of wallpapering, no matter the size or scale of the project. Whether you need a simple border or an entire room covered with wallpaper, you can trust our experienced professionals to complete the project quickly and efficiently. If you're ready to transform your walls into works of art themselves, then call our Seattle wallpaper installation specialists today. With years of experience in wallpapering both homes and businesses, we know what it takes to create a stunning and long-lasting work of art on your walls. Our team of technicians in wallpaper installation Seattle residents love are highly skilled in the art of wallpapering and can transform any room into a work of art with beautiful wallpaper. When we say we are home to the best wallpaper installers Seattle residents rely on, we mean it!
The Seattle wallpaper installation services we provide are some of the most affordable in the entire region! We know that wallpaper is an investment, which is why we ensure that it's done beautifully, professionally, and at prices you won't find anywhere else. We have an extensive selection of wallpaper designs to choose from, so you're sure to find something that fits your style and budget. We pride ourselves on having customer service that's unrivaled by any other wallpaper installation company. When you call us to learn about our wallpaper installation services, you will speak to a real person who's qualified to answer your questions about wallpaper printing. Not only that, but our specialists will help you find the right decor for your home. That's why when it comes to hiring the best wallpaper installers Seattle people always choose us.
Contact Our Wallpaper Installers Today!
Work With The Leaders in Wallpaper Seattle Residents Love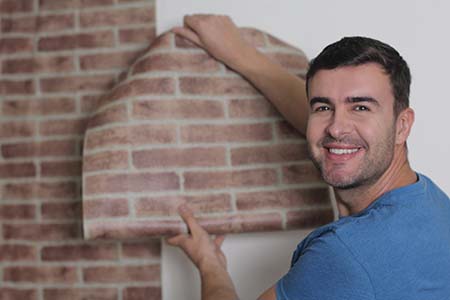 Since our company was founded, we've been working hard to provide efficient services at competitive prices. When it comes to installing wallpaper Seattle residents appreciate the fact that our employees are fully equipped with high-end tools like wallpaper steamers and trucks to put your wallpaper right where it needs to be installed. No project is too big or small for our company. We'll work on everything from commercial spaces to entire homes to bathrooms and bedrooms. If you want a whole room wallpapered or you just want to have an accent wall, give us a call! We also believe that quality should never come at an outrageous cost, which is why we offer competitive rates without compromising on quality or service. Whether you're looking for a classic or contemporary look, our Seattle wallpaper store has a wide range of wallpapers to choose from that will suit your style. We understand that not everyone is familiar with the installation process, which is why we take the time to explain each step of the process so that you know what to expect.
Current wallpaper trends are changing all the time, which means that there's always something new coming out, and it's our job to try to stay up-to-date with these trends. However, if a customer comes to us with a special request for a custom pattern or color scheme, we're ready and able to make those changes quickly and efficiently! It's not just about selling fun patterns anymore; it's about giving our customers the best design options for their homes. Wallpaper installation is an art form. Tt takes skill, technique, and experience to install it correctly. We want to provide you with the best wallpaper installation services possible, and we believe that starts with listening to our customers. So if you have any questions about our wallpaper installation services, please don't hesitate to contact us! If you would like to see the different wallpaper that we offer, please drop by our Seattle wallpaper store!